About Mathis' Maxims
---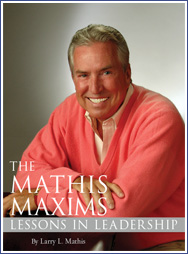 When he was selected CEO of one of the world's most prestigious teaching hospitals at age 39, Larry Mathis began keeping a journal. During his 14-year tenure as head of The Methodist Hospital System in Houston, he wrote the truth as he saw it - in the form of maxims. Each is the product of excruciating experience. So that readers can better understand the maxims' origins, Mathis describes, in often hilarious detail, the paths he took from boyhood in rural Kansas to the peak of his profession and, then, to a fulfilling retirement. These routes led:
From the fifth birthday party that started with ice cream and ended with an automobile accident to announcing to the world the death of Howard Hughes.
From being assigned to the scum-of-the-earth Yellow Bird table in grade school to conversing with royalty, heads of state, and movie stars.
From combat in Vietnam as an Infantry officer to paddling a canoe through water-filled Houston streets to reach his flood-threatened Hospital.
The range of Mathis' experiences led him to understand that "leadership in life and death situations is different than that described in the management books." While his maxims deal primarily with the challenges every leader faces, they also touch on life, love, wisdom and folly.
These reflections of a self-made man on leadership are valuable and entertaining reading both for the beginning, want-to-be executive and the seasoned been-there-done-that veteran.
Purchase Your Copy Now