About Mathis' Career
---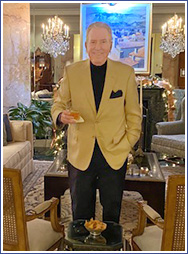 Larry Mathis is the former Chief Executive Officer of The Methodist Hospital System (now Houston Methodist) based in Houston, Texas. The system had 16 member corporations, including The Methodist Hospital and 37 affiliated hospitals in the United States and abroad. Under Mathis' tenure, The Methodist Hospital was the recipient of the "Commitment to Quality Award"; was named in the 1993 edition of The 100 Best Companies to Work for in America; and was named in The Best Hospitals in America as one of the 64 most exceptional hospitals in the nation.

He has served his industry as chairman of the Boards of the Greater Houston Hospital Council, the Texas Hospital Association, the American Hospital Association, and his international professional society, the American College of Healthcare Executives. Mathis was named one of the top 25 healthcare executives in the nation by HealthWeek and one of the nation's five best managers in non-profit health services by BusinessWeek. He is the recipient of the American College of Healthcare Executives' Gold Medal, his profession's highest award for career achievement.

In 2016, Mathis was inducted into the Healthcare Hall of Fame. "It is the industry's most prestigious award and was created in 1988 to honor individuals whose exemplary and long lasting achievements have positively affected the health of people around the world. The inductees exemplify the best in executive leadership in public service and represent the most distinguished people to ever work in health care".

In 2017, the Texas Hospital Association honored him with its first Legend award for outstanding career achievement and continued leadership and support of THA after retirement.

From 2007 to 2020, Mathis was a member of the Board of Directors of Healthcare Trust of America, Inc., a public Real Estate Investment Trust listed on the New York Stock Exchange. It is headquartered in Scottsdale, AZ. He serves as Vice Chairman Emeritus of the Board of Trustees of the Harris County Hospital District Foundation in Houston. From 2004 to 2014, he was a member of the Board of Directors of Alexion Pharmaceuticals, Inc., a NASDAQ 100 and an S&P 500- listed company headquartered in Cheshire, CT. From 1997 to 2003, he was a member of the Board of Directors of Centerpulse, Inc., a New York Stock Exchange-listed company based in Switzerland.

Prior to attending advanced management programs at Harvard and Stanford Universities, Mathis received his Masters Degree in Health Care Administration from Washington University in St. Louis and his undergraduate degree from Pittsburg State University in Kansas.